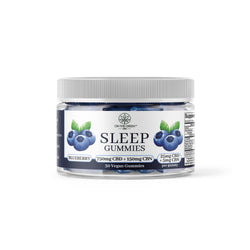 OnTheGreenCBD
CBD + CBN Sleep Gummies. 30 Pack
A good night's rest is only a bite away with our CBD sleep gummies. These gummies are THC-Free, vegan-friendly, and taste incredible. Each of our sleep gummies contains 25mg of CBD + 5mg CBN and a few of nature's most reliable sleep aids, including L-Theanine, Passionflower, and Chamomile. The ingredients in this blend were chosen because they work together to set the foundation for a good night's rest. Sleep plays a critical role in our day-to-day lives and our long-term health. So, take a break from what's been keeping you up at night, fall asleep, and stay asleep with the best CBD gummies.
Serving Size - (25mg CBD + 5mg CBN per serving) | Natural Blueberry Flavor
Custom Formula

ND THC (Non detectable)

Vegan
CBN - CBN or cannabinol is one of over 100 cannabinoids synthesized in the cannabis plant. These cannabinoids interact with the body's endocannabinoid system, a regulatory system responsible for maintaining an ideal balance within the body's functions, including healthy sleep patterns.
L-Theanine - is an amino acid that is critical in modulating hormones and neurotransmitters. For example, L-Theanine increases the levels of calming neurotransmitters, including GABA, dopamine, and serotonin, while decreasing the presence of stress-inducing compounds. L-Theanine's natural stress-reducing benefits make it the perfect complement for our CBD sleep gummies.
Passionflower - Research shows that passion flower has potential anti-anxiety and sleep support benefits. Studies show that this botanical extract increases GABA levels and promotes a natural calm that helps you fall asleep faster and stay asleep throughout the night.
Chamomile - Chamomile tea has a mild sedative effect that is great for inducing sleep. After you fall asleep, chamomile can help to improve sleep quality so that you wake up rested and refreshed. Chamomile has also been shown to help sleep quality problems associated with depression and other mental health issues.
How Many CBD Sleep Gummies Should I Eat?
First-time Users: We recommend that you begin with one gummy and wait at least 30 minutes before increasing your dose. Adjust serving as needed/desired.
Experienced Users: Begin with your preferred serving and use up to two times daily.