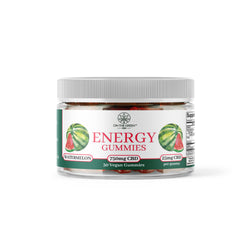 OnTheGreenCBD
CBD Energy Gummies
Overcome the afternoon burnout and brain fog with our CBD energy gummies. These CBD gummies are hand-crafted to help you sustain focus and mental clarity by providing a light cognitive enhancing boost of vitamins B9, B12, Terpenes and CBD. Our CBD energy gummies are THC-Free and Vegan-Friendly. Each gummy provides a convenient and reliable burst of energy anytime you need it. Enjoy the irresistible flavor of watermelon combined with the benefits of vitamins B9 (Folic Acid), B12 and CBD in every bite.
CBD – 750mg total (25mg per serving)
Natural Watermelon Flavor
Vitamin B9 (Folic Acid) - Vitamin B9 plays a supporting role in this blend by enhancing the benefits of Vitamin B12. Vitamin B9 provides your body with the tools it needs to heal and also aids in the creation of DNA and RNA.
Vitamin B12  - Vitamin B12 provides a natural energy boost, improves cognitive functions, and supports other critical bodily functions. Vitamin B12 is essential to our body's energy production and naturally compliments the other ingredients in our energy gummies.
Ingredients -  Organic Tapioca Syrup, Organic Sugar Water, Pectin, Vitamin B9, Vitamin B12, Hemp Oil (CBD Isolate), MCT, Citric Acid, Natural Flavors, Natural Color, Sodium Citrate, Ascorbic Acid, Daytime Terpene Blend (B-Caryophyllene, Myrcene, D-limonene).
How Many CBD Gummies Should I Eat?
First-time Users: We recommend that you begin with one gummy and wait at least 30 minutes before increasing your dose. Adjust serving as needed/desired.
Experienced Users: Begin with your preferred serving and use up to two times daily.